Women's Equality Day LuncheonFriday, August 2311:30amOld National Events Plaza715 Locust St., Evansville, IN 47708This luncheon commemorates the passage of the 19th amendment, which granted women the right to vote in America!Our two esteemed keynote speakers are Republican State SenatorVaneta Becker, and Democratic State Senator Jean Breaux. The ladies will speak about how they have crossed party lines to work together in the Indiana Legislature.Vaneta Becker has represented Hoosiers from southwest Indiana since her election to the Indiana House of Representatives in 1981. Becker served in the House until elected to the Indiana State Senate in 2005, where she serves Senate District 50, which includes portions of Vanderburgh and Warrick counties. Becker serves as Ranking Member of the Senate Committee on Public Policy and is a member of the Senate Committee on Health and Provider Services.Jean Breaux was elected to the State Senate in December of 2006 and elected Assistant Democratic Leader by the Senate Democratic Caucus in 2012. Breaux formerly served as Assistant Democratic Caucus Chair. Breaux is a member of the Indiana Recycling Market Development Board and the State Workforce Innovation Council. She is appointed to serve on the Health and Human Services Committee of the National Conference of State Legislatures, a bipartisan organization that serves the legislators and staffs of the nation's 50 states, its commonwealths and territories.Sponsorship levels begin at $500 for a table.Individual tickets are $50.Additional Sponsorship opportunities and ticket information can be found at http://steppingupevv.com/women-equality-day/tickets/.Two awards will be presented this year to celebrate individuals who have shown exemplary service and motivational leadership.The Unsung Hero Award recognizes an individual for tireless service. The Inspirational Leadership Award recognizes an individual for being a change agent.Nominations are being accepted for these awards at SteppingUpEvv.com.This special event is open to all; we look forwarding to seeing you! Please share with your friends.
Want one of these?You, yes,YOU can become a Card-Carrying Member of the Vanderburgh County Democratic Party by contributing $20 through ActBlue. Help support local Democratic candidates and build the Party.https://secure.actblue.com/donate/vandemsmembership Mon, August 194:30 – 5:30pmLegislative Town Hall TourSheet Metal Workers Local 20, 1301 W. Franklin St., Evansville
Tues, August 273:00pmVanderburgh County Commissioners MeetingRoom 301 of the City/County Administration Building, 1 N.W. Martin Luther King, Jr. Blvd., Evansville This is an opportunity to meet with the new Chair and leadership team of the Vanderburgh County Democratic Party to share thoughts and ideas on how we can make our party stronger together. Vanderburgh County Democratic Party Central CommitteeChair: Edie HardcastleVice Chair: Nick IaccarinoTreasurer: Cheryl SchultzSecretary: Melissa Moore Mon, August 125:30pmEvansville City Council MeetingRoom 301 of the City/County Administration Building, 1 N.W. Martin Luther King, Jr. Blvd., Evansville Mon, August 265:30pmEvansville City Council MeetingRoom 301 of the City/County Administration Building, 1 N.W. Martin Luther King, Jr. Blvd., Evansville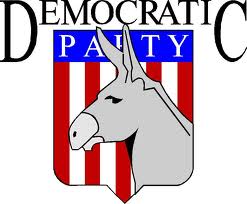 Meet the Candidates: Warrick County Tuesday, August 205:30 – 7:00pmThe Tin Fish707 State StreetNewburghJoin us for a reception supporting Councilwoman Allyson Claybourn and introducing candidates running in Newburgh this fall! Meet Nannette Angel, Newburgh Clerk-Treasurer; Steve Shoemaker (candidate for District 1); and John Mattingly (candidate for District 4), and hear about their vision for Newburgh. Suggested contributions are $50, but all donations are welcome. We will have complimentary appetizers and a cash bar. This is a kid friendly event, so feel free to bring your little ones!
Tues, August 136:00pmChat with the ChairRed Bank Branch Library New Vanderburgh County Democratic Central Committee officers are, from left: Secretary Melissa Moore, Treasurer Cheryl Schultz, Chair Edie Hardcastle, and Vice Chair Nick Iaccarino
A FundraiserforBen TrockmanAlex BurtonZac HeronemusandKaitlin Moore Morley!Thursday, August 85:30 – 8:00pmKevin's Backstage Bar and Grill524 Main St., EvansvilleCome out and support 4 passionate and community-minded candidates for Evansville City Council!★ Host: $500★ Cohost: $250★ Attend: $50Food included. Cash bar.Contributions shall be split equally between the four candidates.Contact [email protected] for sponsorship info.Checks should be written to "Victory Fund" with the memo of "4 under 40" and can be sent to: Victory Fund PAC, P.O. Box 3034, Evansville, Indiana 47735. Fri, August 912:00pmMissy Mosby's Day at the RacesEllis Park Racetrack, 3300 US-41, Henderson, KY
Join Hoosier Democrats at the 139th annual IDEA Convention in French Lick, IN from August 22-24, 2019!Visit https://www.indems.org/annual-idea-convention-in-french-lick/ for more details.See you on the porch!
August 22 – 24139th Annual IDEA ConventionFrench Lick, IN
Thurs, August 84:30pmEvansville Public Library BoardCentral Library Board Room, 3rd floor ***Attention Candidates***Catch up on the Indiana Democrats' series of webinars on a variety of topics. This series is dedicated to training candidates to get them ready to run in the 2019 municipal elections. https://www.indems.org/webinar-trainings-recordings/Programs covered include:How to File For Office (Matthew Kochevar)Campaign Finance (Anna Foster)Social Media 101 (Trina Thomas)Pre-Filing Questions / Campaign Goals (Katie Doyle)Creating A Field Plan (Adi Ben-Yehoshua)Fundraising 101 (Katie Doyle)Creating A Campaign Message (Phil Johnson)Communicating with Press and Media (Phil Johnson)Municipal Finance (Oscar Gutierrez and Trish Whitcomb)Building an Absentee Chase Program (Adi Ben-Yehoshua)Filing Your Pre-Primary Finance Report (Anna Foster)How To Use Early Vote/Election Day Data In VAN (Adi Ben-Yehoshua)City Government Offices (Portia Bailey-Bernard) AUGUST 2019 EVENTS OF INTEREST DATETIMEEVENTLOCATION Tues, August 63:00pmVanderburgh County Commissioners MeetingRoom 301 of the City/County Administration Building, 1 N.W. Martin Luther King, Jr. Blvd., Evansville Thurs, August 85:30 – 8:00pm 4 Under 40, a fundraiser for Ben Trockman, Alex Burton, Zac Heronemus, and Kaitlin Moore MorleyKevin's Backstage Bar and Grill, 524 Main St., Evansville Vanderburgh County Democratic Party–  Newsletter  –August 2019 Tues, August 133:00pmVanderburgh County Commissioners MeetingRoom 301 of the City/County Administration Building, 1 N.W. Martin Luther King, Jr. Blvd., Evansville FacebookTwitterCopy LinkEmail

Missy Mosby's Day at the RacesEllis Park Raceway3300 US-41, Henderson, KYFriday, August 912:00pm$100 Exacta Package1 admission to the Skybox Theatre (includes ticket & buffet)$250 Trifecta Package3 admissions to the Skybox Theatre (includes 3 tickets & buffet)$500 Superfecta Package6 admissions to the Skybox Theatre (includes 6 tickets & buffet)Please come out to show your support for Missy Mosby's re-election to the Second Ward and enjoy a great day at Ellis Park Race Course! Buffet will be served from noon to 2pm and this is included in your price of admission. Blanket race will be held in memory of Missy's uncle, Red Mosby. Together, we will continue to make great things happen in our 2nd Ward!Missy appreciates your continued support and as a team, we can continue to accomplish great things in Evansville!Missy Mosby works for YOU!#TeamSecondWardPlease make checks payable to:Committee to Re-Elect Missy Mosby2722 Pollack AvenueEvansville, IN47714 Tues, August 136:00 – 7:00pmYoung Democrats Monthly MeetingEvansville Central Library Large Group Room A Letter From The Chair:I am excited to announce the new leadership team for the Vanderburgh County Democratic Party.  On Wednesday July 24, Precinct Committeepersons gathered to elect new officers.  I am honored to succeed our previous Chair, Scott Danks. I want to extend to him my sincere thanks for his hard work and dedication to the Democratic Party. Our new Vice Chair is Nick Iaccarino who is a native of Evansville and has been an active participant in party politics. Nick brings with him a skillset that includes fundraising and candidate recruitment. Cheryl Schultz will transition from Secretary to Treasurer. In addition to campaign finance experience, Cheryl has expertise in event planning and staffing elections. Melissa Moore will join us as Secretary.  Melissa is a veteran, an author and a radio host. She will bring her talents to bear on communications and outreach.  And Alex Burton, candidate for City Council Ward 4, has taken the role of Political Director, responsible for developing and communicating our political messaging as well as building relationships between the Party, our elected officials and allied organizations. Our team will be spearheading working groups focused on electing our slate of Democratic candidates in municipal elections this fall. We can't do it alone, so we invite you to participate. There is something for everyone to do. I look forward to working with you and hearing your input on shaping the future of our party.  Please don't hesitate to reach out anytime to talk or to meet for coffee.Edie Hardcastle, ChairVanderburgh County Democratic [email protected] Tues, August 205:30 – 7:00pmMeet the Candidates: Warrick CountyThe Tin Fish, 707 State Street, Newburgh
This is a Public Event hosted by Indiana AFL-CIOMonday, August 194:30 – 5:30pmSheet Metal Workers Local 201301 W. Franklin St., EvansvilleJoin the Indiana State AFL-CIO leadership as they recap the 2019 Indiana legislative session with State Senator David Niezgodski (UA), State Representative Lisa Beck (USW Household) and State Representative John Bartlett (UAW).RSVP here: https://actionnetwork.org/event_campaigns/legislative-town-hall-tour Fri, August 2311:30amWomen's Equality Day LuncheonOld National Events Plaza, 715 Locust St., Evansville
Southwest Indiana Young Democrats: Regular Meeting – Tuesday, August 13, 6:00 – 7:00pmJoin us to talk about local political events, volunteer opportunities, and ways for SWINYD members to help our community. Meetings are held in the Large Group Room at EVPL Central from 6-7 p.m. every second Tuesday of the month. We look forward to seeing you there! Wed, August 218:30 – 9:00amVanderburgh County Council MeetingRoom 301 of the City/County Administration Building, 1 N.W. Martin Luther King, Jr. Blvd., Evansville
read more